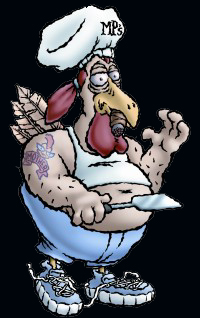 Flaming Hooker's Axis of Evil Collection! Starting with The Mother of All Madmen, Saddam himself, we have all the meanies coming your way. These are a Limited Edition so if you want one, order now. Shipping is approximately the end of April for Saddam, with Osama bin Laden (the Cave-Dwelling Coward), Kim Jong Il (the Pyongyang Pigmy), and others to follow. Pre-release price of $24.95 + shipping will likely be a BARGAIN once these limited editions hit the market and the 125,000 collectors start to bid up the price.

Be advised, these are not your 'average' bobble heads, each is based on the imagination of the staff here at Flaming Hooker Productions and the art of cartoonist Randy Jennings then lovingly crafted by master bobble-makers and patiently hand-painted by starving waifs in a far-off land.

Oh yes, there are also full color, front and back T-SHIRTS available for each, taken from the original art from which the molds were cast at $19.95 + shipping (add $3.00 for size XXL and $4.00 for XXXL). Check 'em out!

Click on thumbnails for larger, more-detailed image. Then click the larger image for a STILL LARGER image.(amazing!)

Saddam Hussein Bobble Head Doll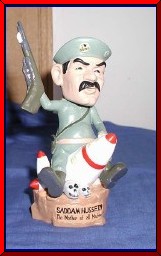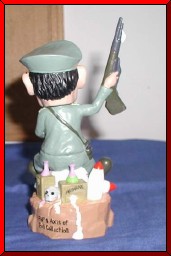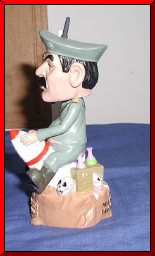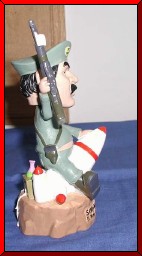 Order the Matching T-shirt!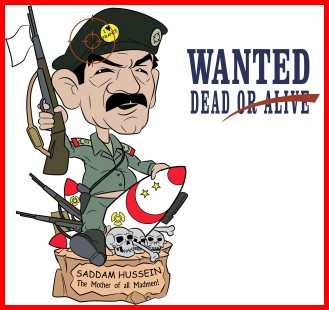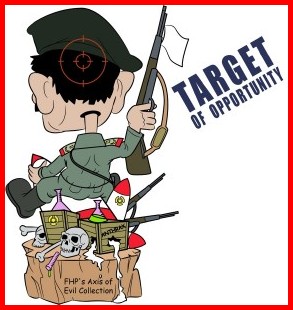 If it's in stock, we have it!
Click to
See other Products
Catalog Page 1 | Catalog Page 2 | Other Stuff | Crap You'll Never Need to Know | Cool Links | Contact Us